Previously run as a whole-house Holiday Let for over thirty years, Bruce and Sheila bought The Great House in January 2020 and re-opened as a Luxury Bed & Breakfast in July 2020.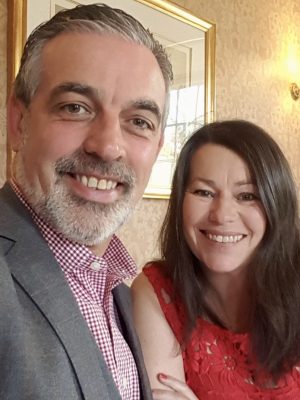 HOW DID WE END UP RUNNING A B&B?
Bruce had Cancer. Bruce was made redundant. Twice.
What did we do?
Went straight down the pub and bought a bottle of champagne whilst discussing how this could be just the catalyst we needed to take charge of our own future.
Bruce got a new job.
Sheila set about redecorating two spare bedrooms and there followed a (very successful) year of AirBnB, which instilled enough confidence to sell up and start the hunt for the perfect property to run as a B&B.
WHY EXMOOR?
Sheila has been camping on Exmoor since the early Seventies and always knew she would live there one day.
Bruce gradually fell in love with Exmoor's endless charms too, so the location was settled – but finding the right property within the National Park boundaries proved a tougher proposition.
Timberscombe is the perfect location – within the National Park; just five minutes from the huge attraction that is Dunster and close enough to cities such as Bristol and London for a weekend break.
WHY THE GREAT HOUSE?
Kerb appeal – Well, it DOES look amazing! It stands out online when people are looking for somewhere to stay
Size – Five huge bedroom suites to let PLUS a separate space to live as a family
Potential – We could see past the dated décor as it had good bones on which to build
WHAT DID WE DO?
Despite falling in love with the house, it was obvious that it was tired, tatty and in desperate need of an overhaul. However, we could see the potential to create our dream, luxury B&B with huge, romantic bedroom suites that our guests would love.
By focusing on the existing period features and uncovering those that were hidden or boarded up, and with the addition of luxurious fittings and fabrics, we hoped to create something really special – we hope you'll agree that we have achieved that!
WHAT'S NEXT?
An ongoing project of restoration including new rooves, sash window refurbishment and returning the shutters to working condition.
ANY REGRETS?
None!
We love hosting our many and varied guests and are never happier than when we are able to make their stay a fabulous one!